So today after university I went for a wander around Southampton shops to look for some inspiration for up and coming photo shoots and to do a bit of window shopping really - I assumed it would cheer me up - how wrong could a skint student be! Primark is a treasure trove of beautiful affordable summer essentials, Riverisland does mute neons, pastels and lace down to a t and h&m has something for any night out, however I then ventured into Zara. Now, I don't usually shop in Zara mainly because of the price tags and secondly I usually only find things in the TRF range, however today I was so

surprised

and the gorgeous garments in the Zara Women's section!

asymmetric

skirts and dresses, mint green jeans, pleats, pastel colours - the whole store in Southampton is SO eye catching, so in true blogger spirit I grabbed my favourite items and tried them on - and took some photos for good measure. I apologize for the poor quality - I took these on my iphone (I think I'd get funny looks with a DSLR going off in the changing rooms) and I

deliberately

didn't

put my face in these photos as you'd be horrified if you knew what my face/hair looked like this morning! So since I currently have no beauty products to review and no worth while OOTDs I thought I'd show you some 'fashion finds' and some of my favourite pieces in Zara right now :) .
..
This was the first garment I picked up in Zara, very greek goddess esque and would be perfect for summer bbqs and formal occasions! Its actually got small 'spaghetti' straps which cross at the back but i chose to tuck them in, This dress was made of chiffon fabric and again was on trend with the asymmetric cut, Unfortunately the colour washed me out completely and didn't suit me atall, still a beautiful dress though! £29.99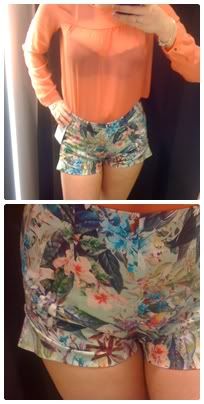 These shorts match the shirt following and are hot pant style perfect for summer nights or holidays and really flattering on the legs, gorgeous pattern and colours. Retailing at £22.99.
This shirt featuring the same print as the shorts before is beautiful. Its silky to the touch and the fabric is really breathable (If that makes sense!) it does up right to the collar so its perfect if you like wearing necklaces under the collar of shirts like me, I love the colours and the print featuring hawaian flowers and waterlillys, it almost reminds me of the kind of design you see on kimonoes.It retails at £29.99

My favourite find by far, this beautiful baby pink asymmetric pleated dress, longer on the left hand side with a 'paper bag' band round the waist. You can't see here how flattering it is because I had to try it on with the shirt, but it fits beautifully. This retails for £29.99 .. Keep your eyes peeled, I might try and create a DIY version of this.