Today has been a really nice day, I went into uni for my photography lectures and although I felt they were pretty pointless it was nice to get out and have some fresh air. I came home tidied my room and did a quick food shop. Today I wore the denim dress i purchased from Primark a couple of days ago - I've been dying to wear it and teamed it with neutral colours of black and brown as the denim is a very light bleached type and having too many light colours in an outfit really washes me out I feel, I really enjoyed wearing this outfit, The dress is really nicely fitted and an absolute steal for £10 and I can't wait to wear it without tights in the summer! I did'nt have anyone around to help me take an outfit post today - so I hope these will suffice 'till i get my hands on a bloody tripod!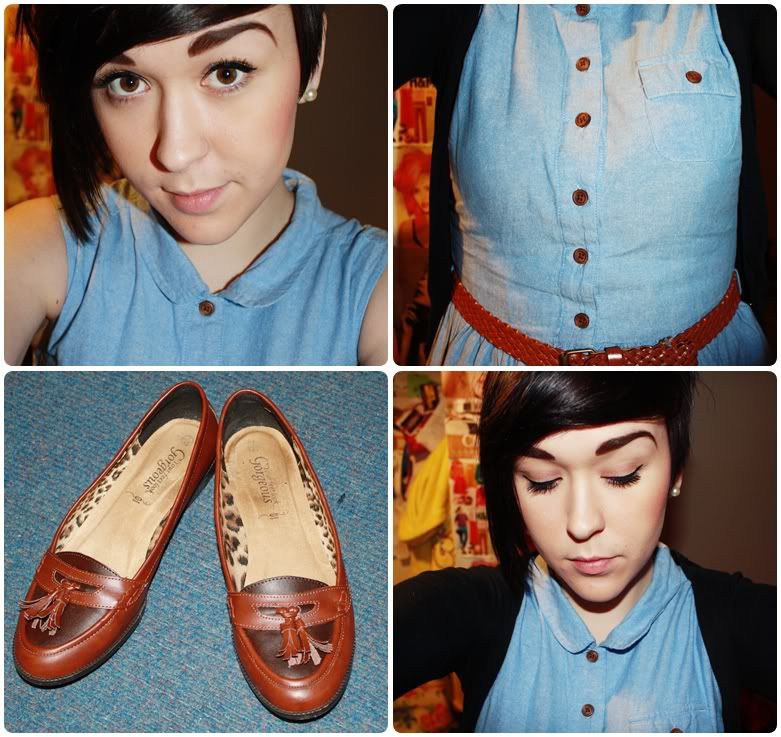 Black Cardigan (Previous season) £8.99 H&M
Brown loafers around £20 Newlook
Make-up
Face
Foundation Boots 17 blemish balm in 'Light' applied with MAC brush 190SE
Concealer Collection 2000 cover up stick in 'Natural Beige 13' applied with ring finger under eyes and over blemishes
Powder Collection 2000 lasting perfection ultimate wear powder in '1 Fair' applied with E.L.F total face brush
Blusher Natural Collection blushed cheeks in 'Blushed Cheeks' applied with E.L.F Bronzing contour brush along cheek bones and nose
Eyes
Rimmel London Duo eyeshadow in '321 Walnut Pearls' applied with Superdrug eyeshadow brush, brown all over lids, cream on brown bone
2true effortless liqyid eyeliner
Collection 2000 Skyscraper mascara
How was your day? Will you be wearing denim this summer?